HEALTH INSURANCE NETWORKS
What's A Network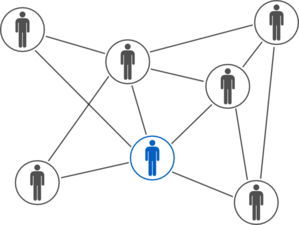 Health insurance networks are made up of the doctors, hospitals, clinics, and specialists that a health insurance company contracts with to provide services. The doctors, hospitals, clinics etc. are collectively known as the providers. This means the "network" has come to an agreement with the providers as to what they will charge the insurance company for any particular procedure.  These networks are in important part of the healthcare system we have today. They help insurance companies control costs and the quality of care that its members receive. Healthcare.gov has a pdf available that covers types of networks very well. What you should know about networks
What About Prescriptions
Prescription medications have their own network and are managed by PBMs (Pharmacy Benefit Managers). These networks serve the same function as provider networks. Health insurance companies have contracted with a PBM to provide services to its members. The health insurance company and the PBM have agreed upon prices for prescriptions and what pharmacies will deliver those prescriptions. The PBM does not control what medications are in the health insurance company's formulary. The formulary determines what prescriptions will be considered Tiers 1, 2, 3 etc.
Who Owns the Network
A person's health insurance plan may or may not own their health insurance network. For example, XYZ Health is a national health insurance company and is available in all lower 48 states. XYZ's network is available in most major cities in the United States but not all. In those cities, XYZ may choose to "rent" another organization's network to provide services. It may "rent" yet another network to provide services in more rural states or areas. In some areas this may mean using different providers and in some areas it may just mean different "networks" have reached different pricing agreements with the "providers" in that area.
Check Your Network
Before you buy a health insurance plan you need to make sure that the providers you use are 'In-Network". That means they have contracted with the insurance company you're considering to provide services. Which ultimately means you'll have the lowest out of pocket expense that your plan offers.